Last week I entered a Facebook contest and I won it! I'm always excited to get things in the mail.. especially presents and this time was no different.
Kelly at Stitchnmomma made this beautiful cross stitch fridge magnet. I just received it in the mail and it will look lovely on my black fridge.. which frankly could use a little color.
Cheerful, isn't it?
What I love most about her shop are her beautifully hand dyed fabrics. She does Aida cloth as well as even weave linen. She was the inspiration for me trying the Kool Aid dyeing. As she doesn't use Kool Aid to dye her fabric, she has achieved lovely, color-fast fabrics at a very reasonable price. 🙂 She's even got a newly launched Fabric of the Month club!
Check out this gorgeous medium brown..
Medium Brown, DMC Floss Match 433
And just in case you aren't sure your monitor is showing you the color accurately, she provides the DMC floss color in every listing. Handy.. and that extra touch makes all the difference.
Kelly also has original cross stitch patterns as well as finished products. And, since all that talent is really too much for one location, Kelly has another Etsy shop called Buttons by Stitch where you can buy handmade cross stitch and fabric covered buttons.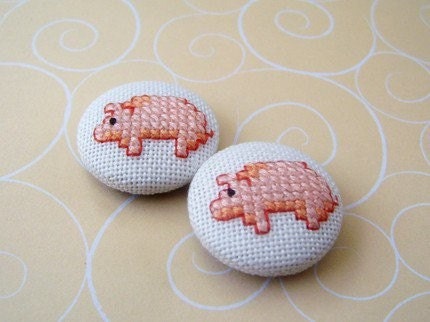 Oink!
I'm tickled pink to now have my very own StitchnMomma magnet! Thanks Kelly 🙂 Please visit StitchnMomma and give her a thumbs-up on Facebook if you haven't already.
Keep your eyes peeled, I may have to have a giveaway of my own very soon!